Transaction Costs
Many financial exchanges that appear profitable on paper are not profitable in reality due to transaction costs. In There's More Than One Ball Game, I illustrated how an investor who had invested $100 in a stock could have had a return of -8.4%, while an investor who had invested $1,000 in the exact same stock at the exact same time could have had a return of 3.6%. When investing small amounts of money, transaction costs (brokerage fees, etc) must be a more serious consideration than when investing larger amounts of money.
 At the moment, I am currently auctioning off my Power Mac G5 on eBay. The bid-ask spread for items sold on eBay is absolutely gigantic; far greater than anything you would ever see on the stock market. Part of the spread is induced by the natural transaction cost of shipping. It doesn't cost anything to "ship" a share of a stock, as a share may be transferred electronically. However, to ship a 50 lb. computer from Philadelphia to Chicago, it would cost $62.10. Assuming that the computer sells for an even $800, the person purchasing it would have to pay $862.10 to both acquire the computer and to receive it. My profit, as the seller, would be far less. After $62.10 is spent on shipping, the remaining $800 is divided between myself, eBay, and PayPal (an online payment service owned by eBay). It is rather difficult for consumers to determine the true cost of selling an item on eBay, as the cost is really the sum of three fees:
The Insertion Fee (makes an item appear on eBay)
The Final Value Fee (only paid if the item is sold)
The PayPal Fee (only paid if money is exchanged via PayPal, which happens in most auctions)
The Insertion Fee and Final Value Fee are both piecewise functions that depend on the price of the item being sold. The fee becomes a smaller and smaller percentage of the value of the item as the value rises, but the fee decreases in a discontinuous fashion. In order to better show how these fees work, I have created:
The eBay Curve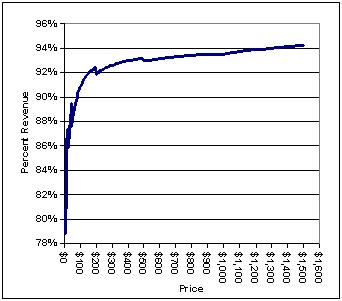 On the vertical axis of The eBay Curve, you can see the percentage of money that you receive from a sale on eBay, as a function of the price. Thus, if my computer sold for $800, I would only receive about 93% of the value of the item, i.e. $747.14. So, if someone buys my computer and pays $862.10, and then I receive $747.14 from eBay (after allowing for shipping expenses), there has been a transaction cost of $114.96! From the seller's perspective, that is over 15% of the revenue generated from the sale! As a result, there is a substantial amount of friction in the online market. If I see an computer worth $100 for sale for $95 on eBay, I will not try to arbitrage it (buy it for $95, and then sell it to someone else for $100), as then the item will have to be shipped twice, and according to The eBay Curve, I only receive $91 back from a $100 sale. Thus, this transaction makes no sense for me. As the value of an item increases, or the profit margin on an item increases, the more it makes sense to sell the item on eBay.
What does this have to do with investing? Well, buying a house has a very similar fee structure. Imagine that you bought a house yesterday for $100,000, and all of a sudden realize that you need to move. As a result, you sell it to someone else for $100,000 the next month. Did you break even? Absolutely not! As a result of transactions costs, you have suffered a substantial loss. When purchasing a home, the buyer is responsible for title insurance fees, inspection fees, and other fees, which are all analogous to the shipping costs of eBay. I believe that these fees are approximately $5,000 on a $100,000 home. As these fees are not included in the home, it would cost $105,000 to acquire a $100,000 home (just as it costs $862.10 to acquire a $800 computer). When selling a home, one must pay the commission of both the buyer's agent and the seller's agent, which usually is 6% of the sale price. So, instead of receiving $100,000 from the sale, the seller receives only $94,000. Thus, when buying and instantly reselling a $100,000 home, one can expect to spend about $105,000 to acquire the home, and to receive $94,000 in revenue from the sale of the home. The transaction costs associated on flipping the home in question are $11,000, almost 12% of the revenue.
 So, why do people buy and resell computers and homes? People reselling computers buy computers that are severely under-priced, and then sell them as soon as they can, as computers tend to depreciate rapidly. People buying homes tend to wait to sell them, hoping that they will appreciate in value while they are being held, beyond the cost of the transaction. Whether selling a stock, a computer on eBay, or a home, it is important to be aware of the effect that transaction costs will have on your return.